The Given - Fresh Pick!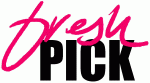 Much thanks to the fantastic book club, Fresh Fiction for making THE GIVEN today's top Fresh Pick for readers!
Fresh Fiction is a huge and active online book club, with an affiliate in-person club in Dallas, where I so often spend my time.
They put on countless events, including the wonderful all-day Boas and Tiaras Tea — which I'll be attending on June 14th — and the Readers & 'Ritas three-day event, every November.
I've never seen a book club work harder to bring readers and authors together, and I'm honored that THE GIVEN is their pick of the day.
Thank you, Fresh Fiction! Some past events with Fresh Fiction in Dallas: